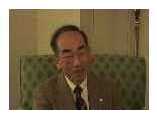 Sadaoki Furui is a Professor and Head of the Department of Computer Science in the Graduate School of Information Science and Engineering at the Tokyo Institute of Technology. He received B.S., M.S. and Ph.D. degrees from Tokyo University. His work on speaker characterization, speech analysis, robust speech recognition and other areas of speech technology was carried out for many years at the Electrical Communications Laboratories of Nippon Telegraph and Telephone Corporation. He has spearheaded several major Japanese national programs advancing speech research and technology.
An interview was conducted with Dr. Furui at the IEEE ICASSP meeting in Philadelphia, PA, USA, March 18-23, 2005 by Dr. Janet Baker. The text of this interview has not yet been transcribed, but a brief excerpt of the recorded interview is available.
Brief excerpt of recorded interview.