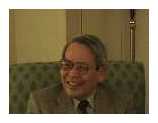 Fumitada Itakura is a Professor at Meijo University in Nagoya, Japan. He received his undergraduate and Ph.D. degrees from Nagoya University. He worked for many years at Nippon Telegraph and Telephone Corporation, followed by a long tenure at Nagoya University. His central contributions to speech research and technology include advances in stochastic processes, linear prediction, and maximum likelihood classification, as well as PARCOR and line spectrum pair (LSP) speech analysis and synthesis.
An interview was conducted with Professor Itakura at the IEEE ICASSP meeting in Philadelphia, PA, USA, March 18-23, 2005 by Dr. Janet Baker. The text of this interview has not yet been transcribed, but a brief excerpt of the recorded interview is available.
Brief excerpt of recorded interview.