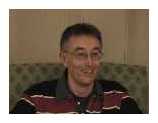 Roger K. Moore, B.A., M.Sc., Ph.D., FIOA, MIEE, is a Professor and Chair of Computer Science in the Speech and Hearing Research Group at Sheffield University. His many years work at work at the UK Government's Speech Research Unit focused on speech perception measures, speech recognition evaluation, and robust speech technology.
Additional information on Professor Moore can be found at:
http://www.dcs.shef.ac.uk/~roger/
An interview was conducted with Professor Moore at the IEEE ICASSP meeting in Philadelphia, PA, USA, March 18-23, 2005 by Dr. Janet Baker. The text of this interview has not yet been transcribed, but a brief excerpt of the recorded interview is available.
Brief excerpt of recorded interview.