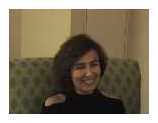 Isabel Trancoso is a professor of speech processing at the Instituto Superior Técnico (IST) and heads the Speech Processing Group at INESC (Instituto de Engenharia de Sistemas e Computadores) in Lisbon. She received her undergraduate and doctoral degrees from IST. Her work focuses on speech encryption and on various aspects of language engineering, including speech coding, large scale Portuguese data collection and speech recognition.
Additional information on Professor Trancoso can be found at:
http://www.speech.inesc.pt/~imt/cv/ecur.html
An interview was conducted with Professor Trancoso at the IEEE ICASSP meeting in Philadelphia, PA, USA, March 18-23, 2005 by Dr. Janet Baker. The text of this interview has not yet been transcribed, but a brief excerpt of the recorded interview is available.
Brief excerpt of recorded interview.