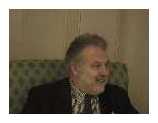 Christian Wellekens is a Full Professor and former department head in the Multimedia Communications Department at the Institut Eurécom. He received the degree of Ingénieur Civil Electricien Mécanicien from the University of Louvain, Belgium and a Ph.D. from the Ecole Polytechnique Fédérale de Lausanne, Switzerland. During his many years at Philips Research Laboratory, his work focused on circuit theory, signal processing, speech recognition, neural networks and applied mathematics.
Additional information on Professor Wellekens can be found at:
http://www.eurecom.fr/~welleken/
An interview was conducted with Professor Wellekens at the IEEE ICASSP meeting in Philadelphia, PA, USA, March 18-23, 2005 by Dr. Janet Baker. The text of this interview has not yet been transcribed, but a brief excerpt of the recorded interview is available.
Brief excerpt of recorded interview.